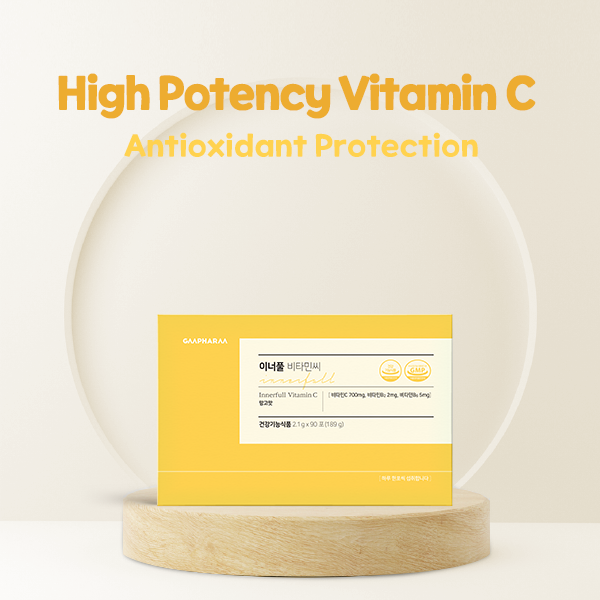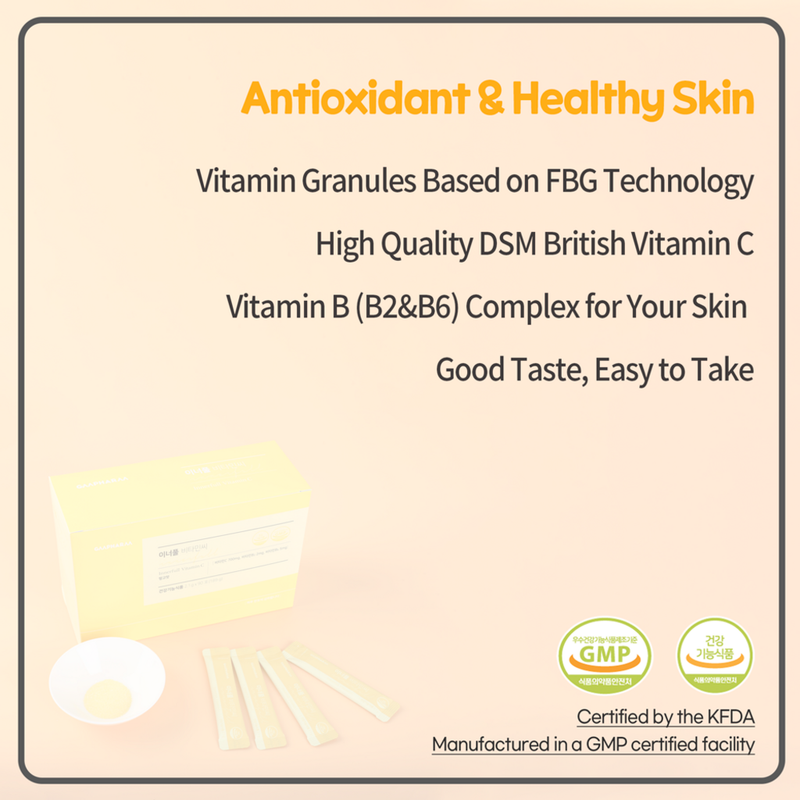 ✅ Benefits
­­▶ Vitamin Granules Based on FBG Technology.
FBG (Fluid Bed Granulator) is a technology to make granules from powder. With this process, powder can be coated uniformly. The coating could protect the vitamin powder and improve the flavor by control the bitter and sour taste.
­­▶ High Quality DSM British Vitamin C
Manufactured by a leading company, we use DSM's highest grade of Vitamin C from UK which is produced from European corns.
­­▶ Vitamin B (B2&B6) Complex for Your Skin
Innerfull Vitamin C also provides vitamin B2 and B6 which can enhance skin health through promoting robust hair, skin and nails, via counteracting damage caused by free-radicals.
­­
▶ Good Taste & Easy to Take Formular
We use mango concentrated powder to make it more delicious. You can enjoy the Innerfull Vitamin C regardless of age or gender with its sweet taste. Convenient packets make it easy to take and support your health on the go!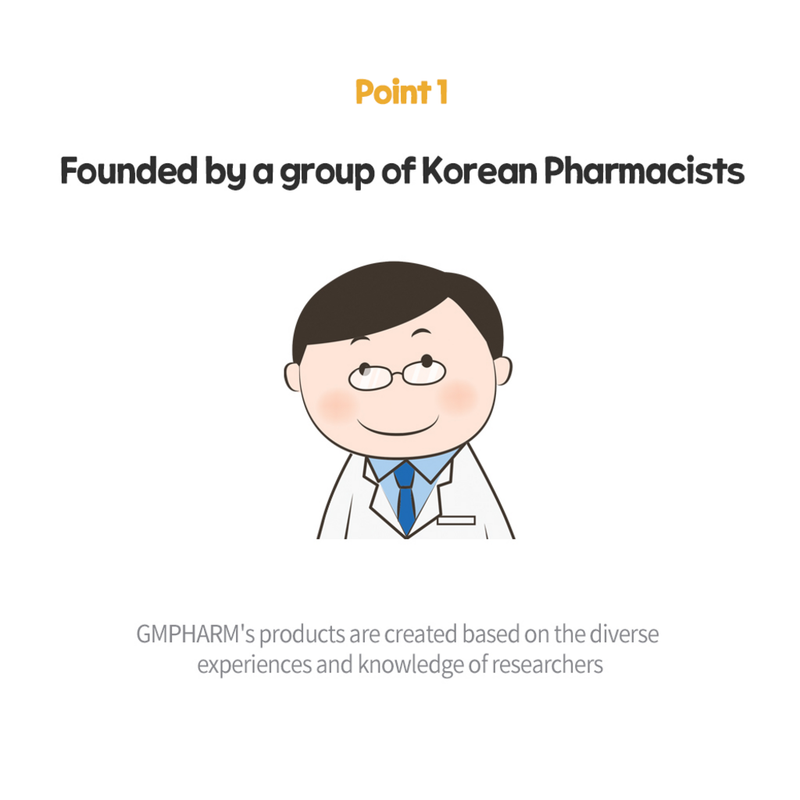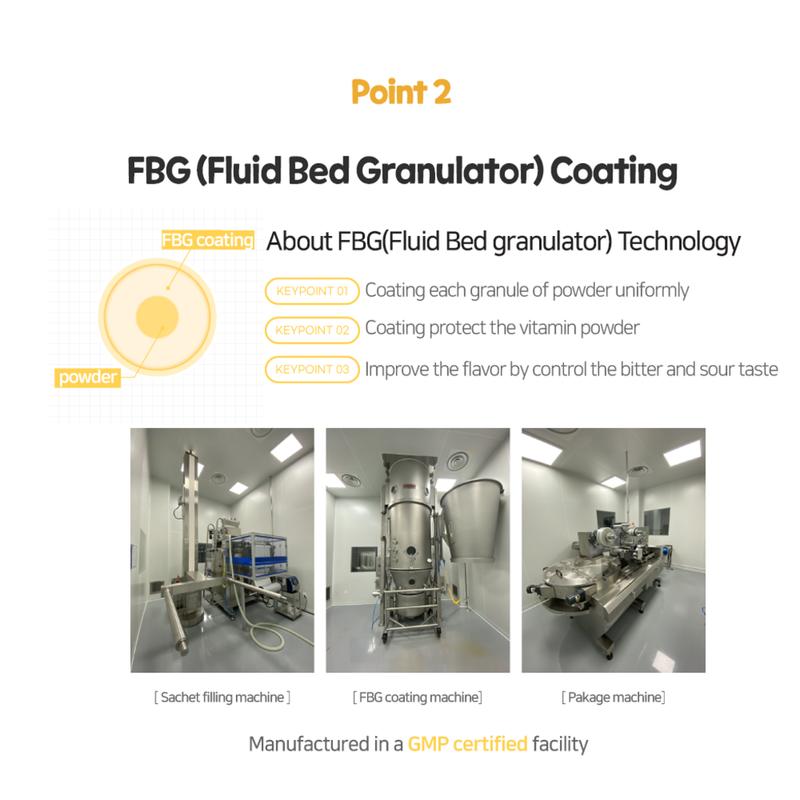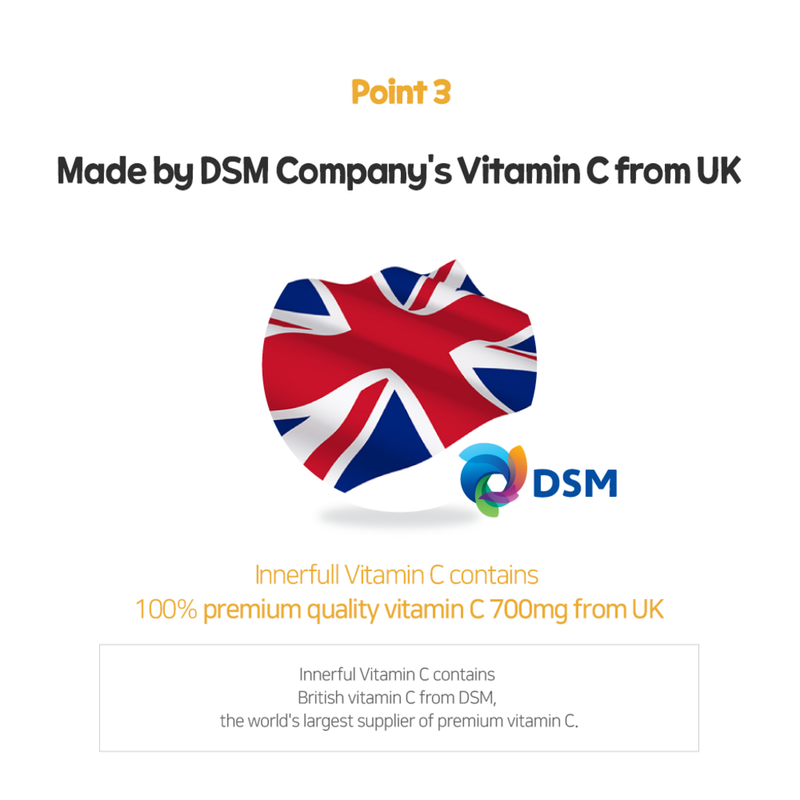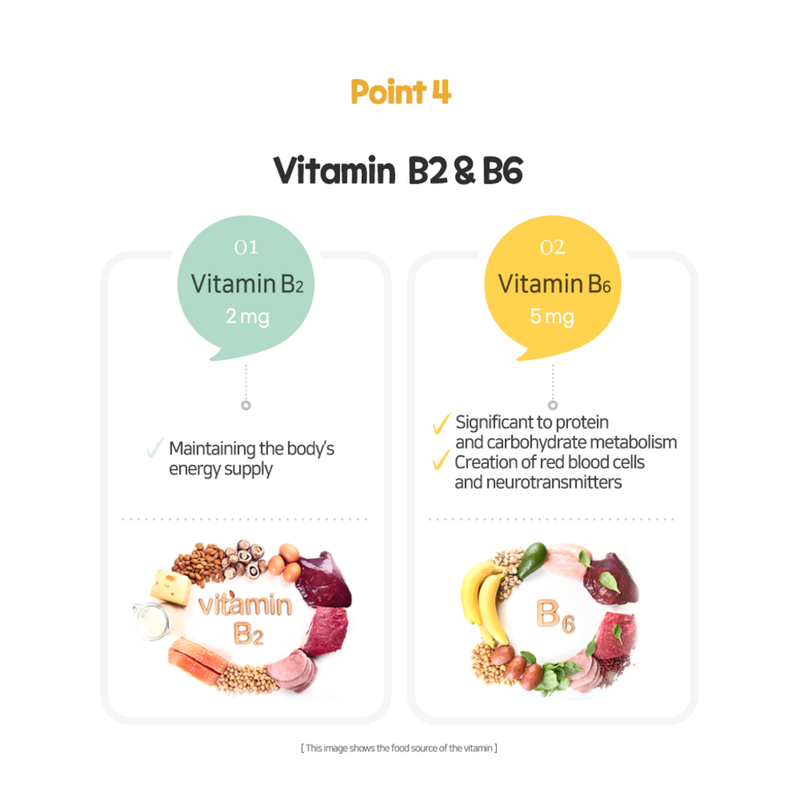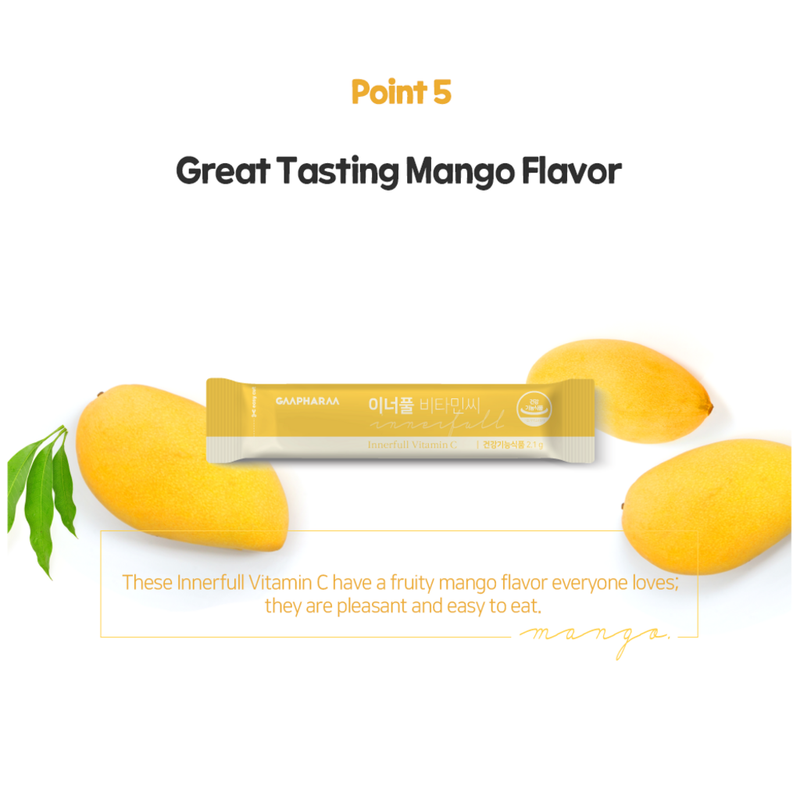 ✅ Recommended for:
▶ Those who are concerned about skin aging
▶ Those who want antioxidant functionality
▶ People who lack sufficient intake of vegetables and fruits
▶ People who love exercise frequently
▶ Those who want to intake vitamin conveniently
✅ Point
▶ Vitamin C 700mg: Provides antioxidant and immune support. It helps with oxidative stress and the premature aging of cells.
▶ Vitamin B2 2mg: Plays a vital role in maintaining the body's energy supply. It helps improve skin tone, make skin more radiant and balance natural oils.
▶ Vitamin B6 5mg: Significant to protein, fat and carbohydrate metabolism and the creation of red blood cells and neurotransmitters. It helps stop acne from the start caused by hormonal fluctuations and helps make your skin resistant to the effects of testosterfone.
✅ Information
▶ Certified by the KFDA
▶ Manufactured in a GMP certified facility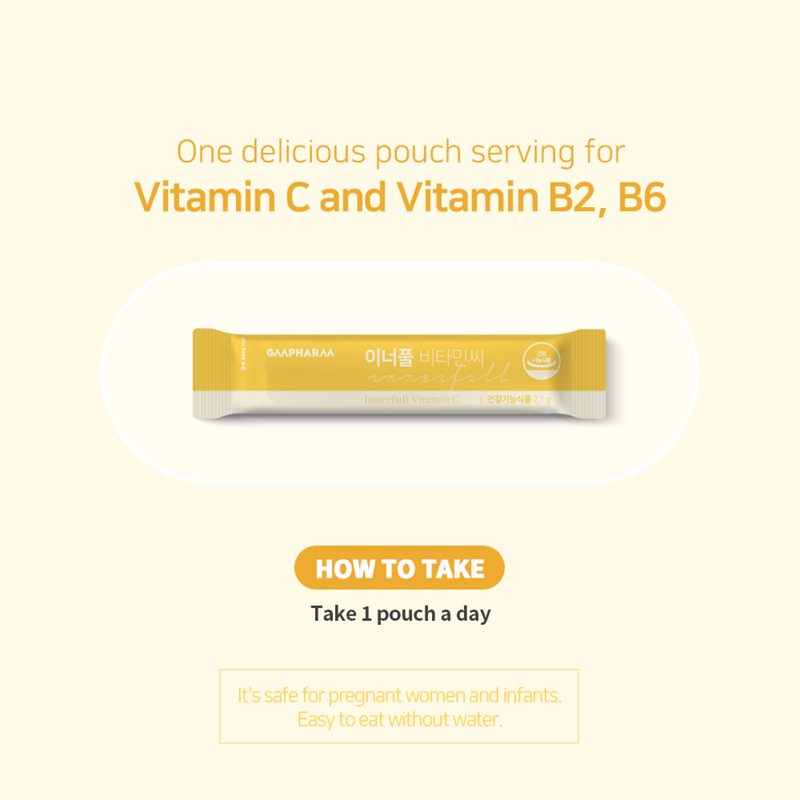 ✅ Dosage
▶ Once a day. Take one pouch with or without water
▶ 10 day/90 day supply
▶ Men and women of all ages
✅ Ingredient
Vitamin C (British) 35.4%, vitamin B6 hydrochloride 0.33%, vitamin B2, xylitol, dextrose anhydrous D-sorbitol, mango-flavored mixture, gum arabic, mannitol, silicon dioxide, hydroxypropylmethylcellulose, enzyme-treated stevia, sucralose, mango concentrated powder [mango: Israel], orange flavor powder
✅ How to store
▶ Store in a cool and dry place (Avoid Sun)
▶ No need to put into Refrigerator