🥇 Korea No.1 Product on CHILDREN'S SUPPLEMENT, GMPHARM🥇
We are a specialized health functional food company composed of pharmacists👩‍🔬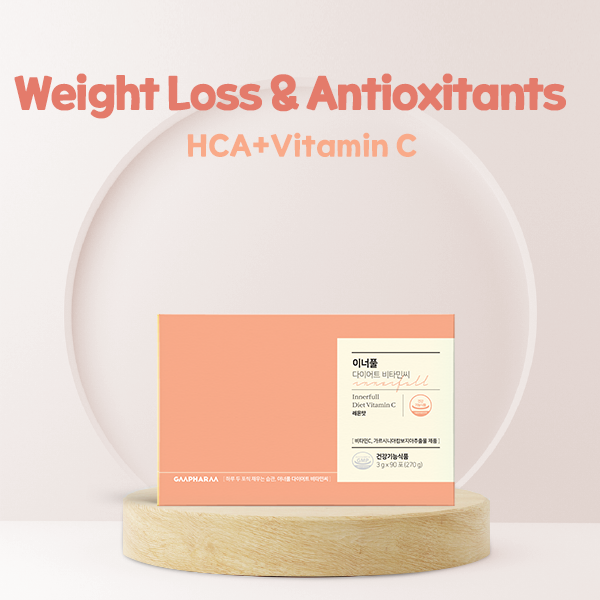 ➡Innerfull Diet Vitamin C⬅
Antioxitants & Promotes Fat Burn Dual Effect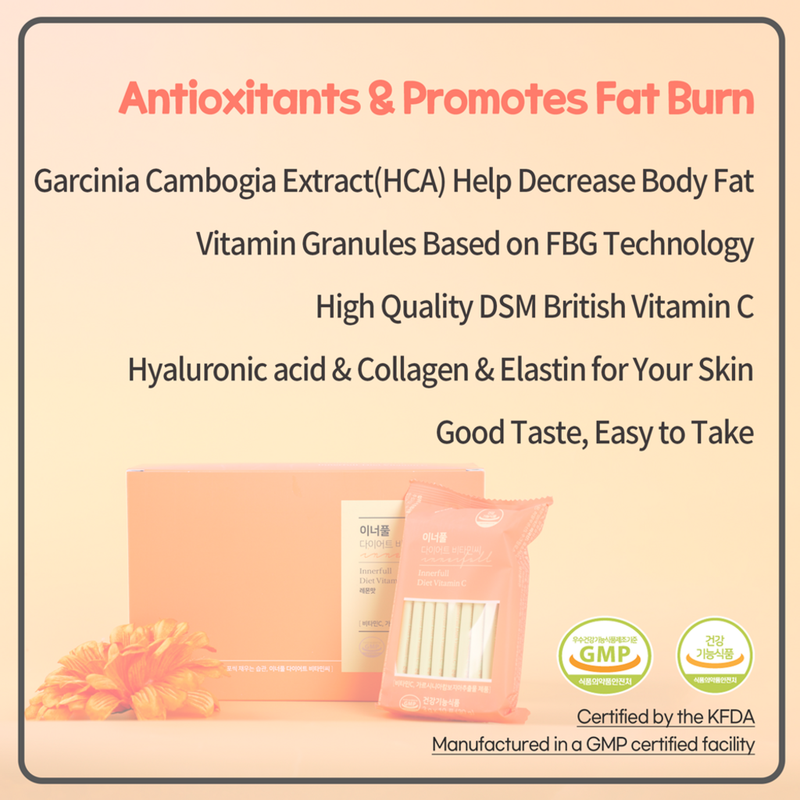 ✅ Benefits
▶ Garcinia Cambogia Extract (HCA)
HCA can help reduce hunger, decrease body fat, keep you fuller for longer and support your fat burning metabolism.
▶ Vitamin Granules Based on FBG Technology.
FBG (Fluid Bed Granulator) is a technology to make granules from powder. With this process, powder can be coated uniformly. The coating could protect the vitamin powder and improve the flavor by control the bitter and sour taste.
▶ Hyaluronic acid & Collagen & Elastin for Your Skin
In general, diet can cause aging of the skin by causing skin oxidative stress to produce inflammatory damage. Innerfull Diet Vitamin C provides ingredients which are support skin elasticity and hydration so that it helps antioxidants during the diet.
▶ High Quality DSM British Vitamin C
Manufactured by a leading company, we use DSM's highest grade of vitamin C from UK which is produced from European corns.
▶ Good Taste & Easy to Take Formular
We use lemon concentrated powder to make it more delicious. You can enjoy the Innerfull Diet Vitamin C regardless of age or gender with its sweet taste. Convenient packets make it easy to take and support your health on the go!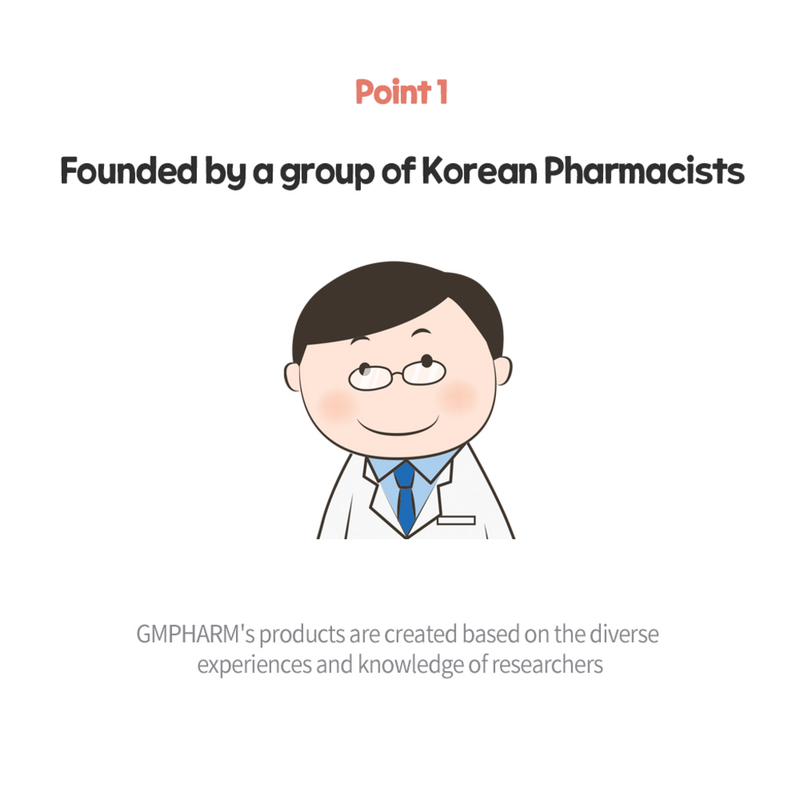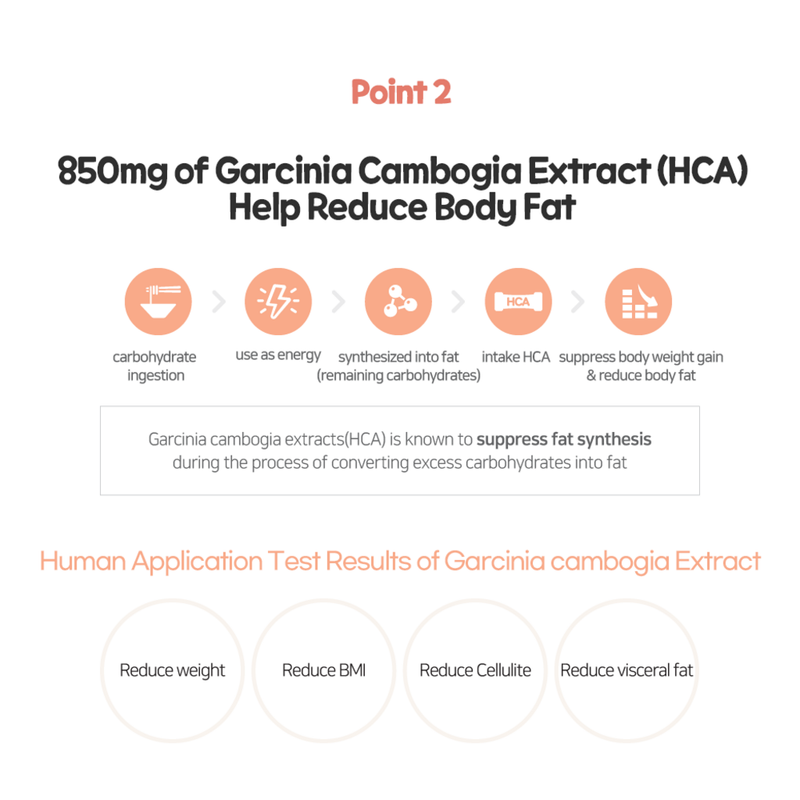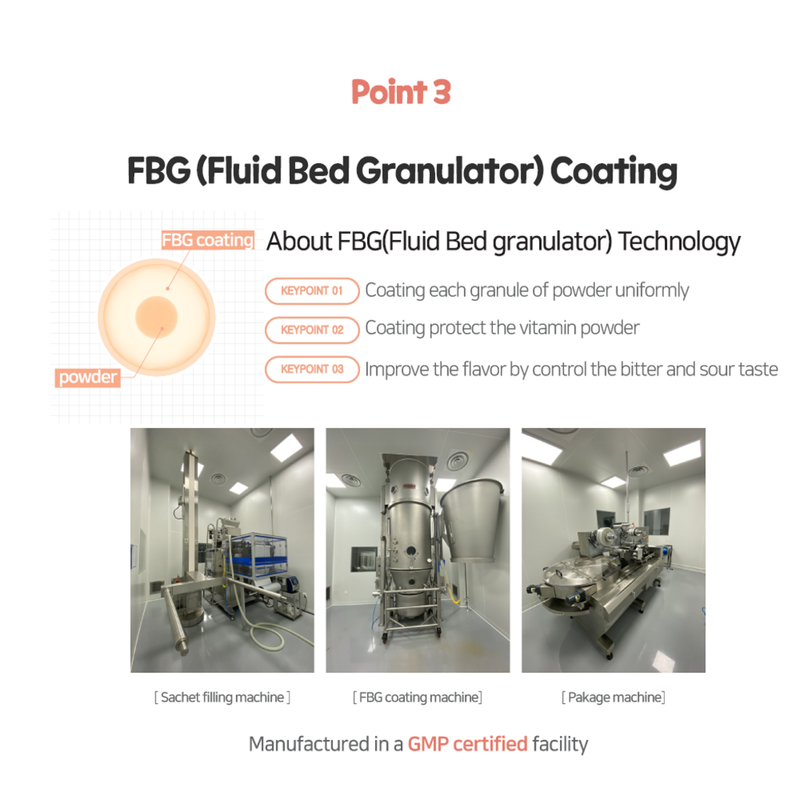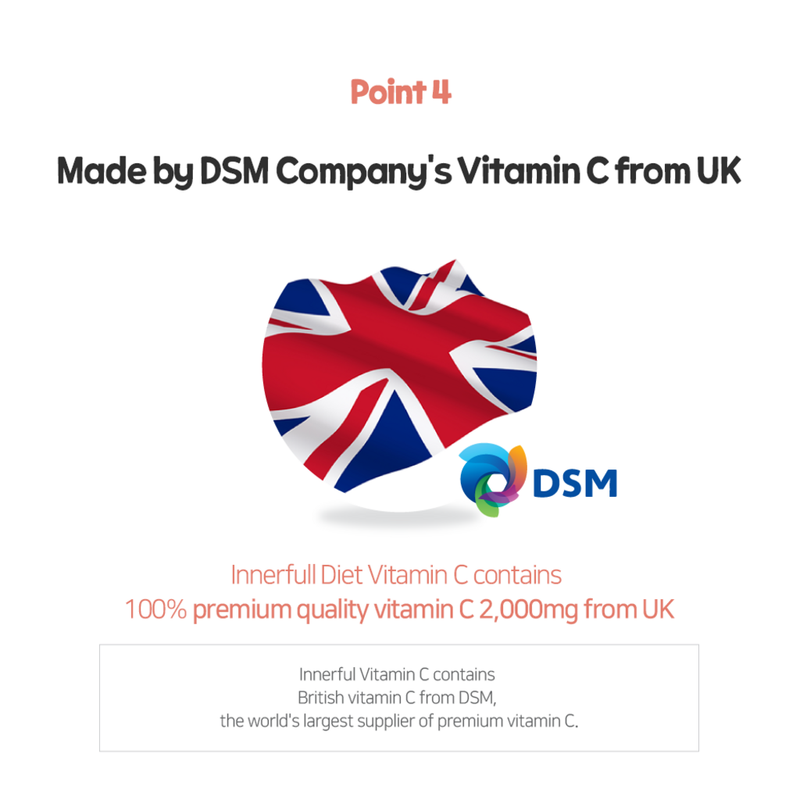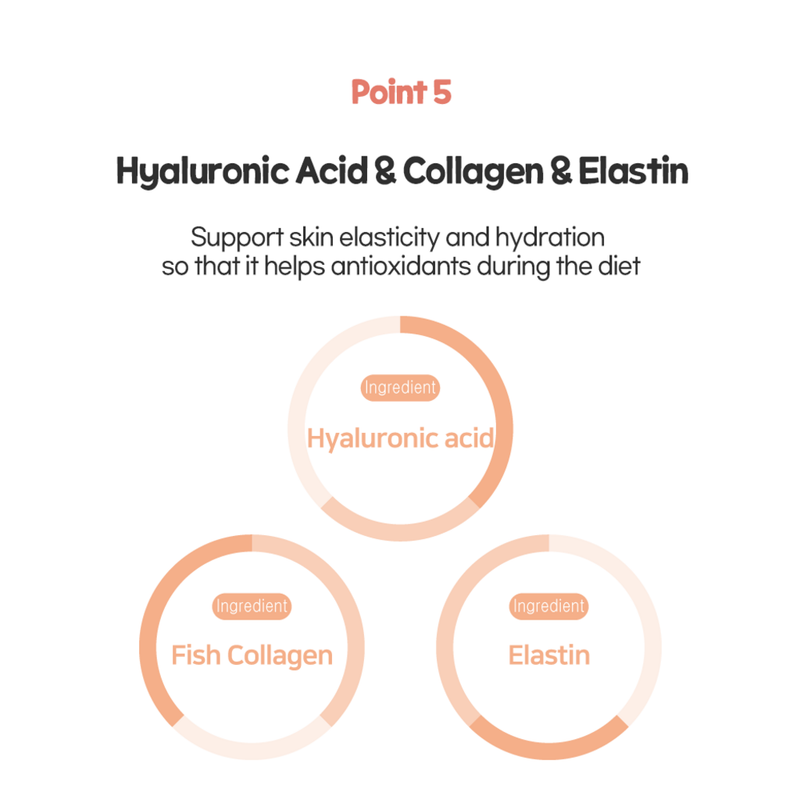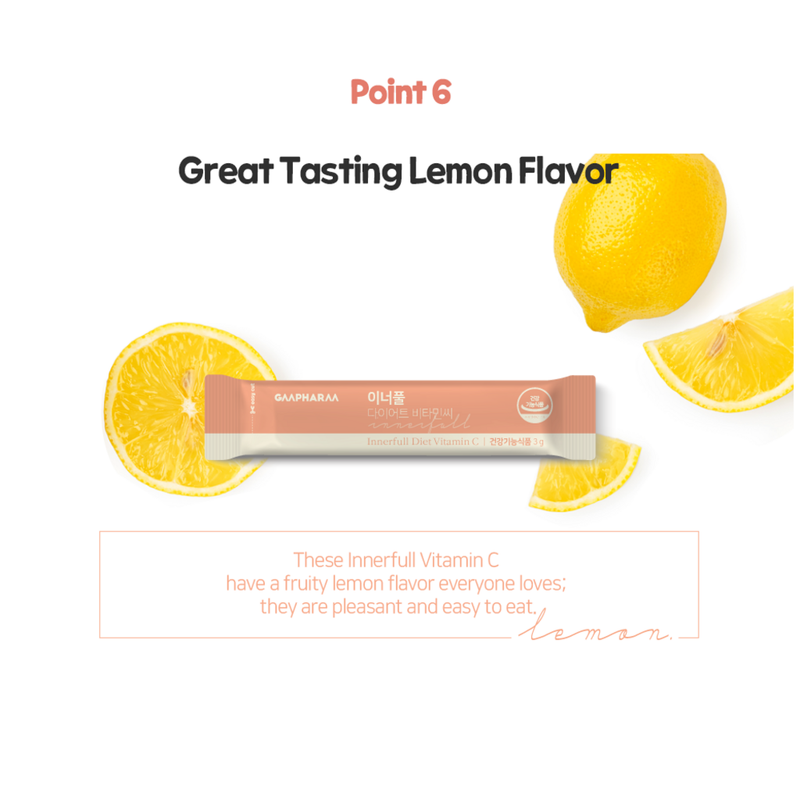 ✅ Recommended for:
▶ People who usually eat a lot of carbohydrates
▶ People who want to reduce body fat
▶ Those who are concerned about skin aging during diet
▶ Those who want to intake diet supplement conveniently
▶ Those who want antioxidant functionality
✅ Point
▶ Garcinia Cambogia Extract (HCA) 850mg: HCA is known to inhibit the formation of fat and to enhance satiety, the sense of feeling full and satisfied, and thus to suppress food intake.
▶ Vitamin C 2,000mg: Provides antioxidant and immune support. It helps with oxidative stress and the premature aging of cells.
▶ Hyaluronic acid & Collagen & Elastin: Hyaluronic acid helps with soft tissue growth, prompts your body to make more collagen and elastin, keeps your skin moisturized, prevents tightness, boots elasticity, and reduces scarring.
✅ Information
▶ Certified by the KFDA
▶ Manufactured in a GMP certified facility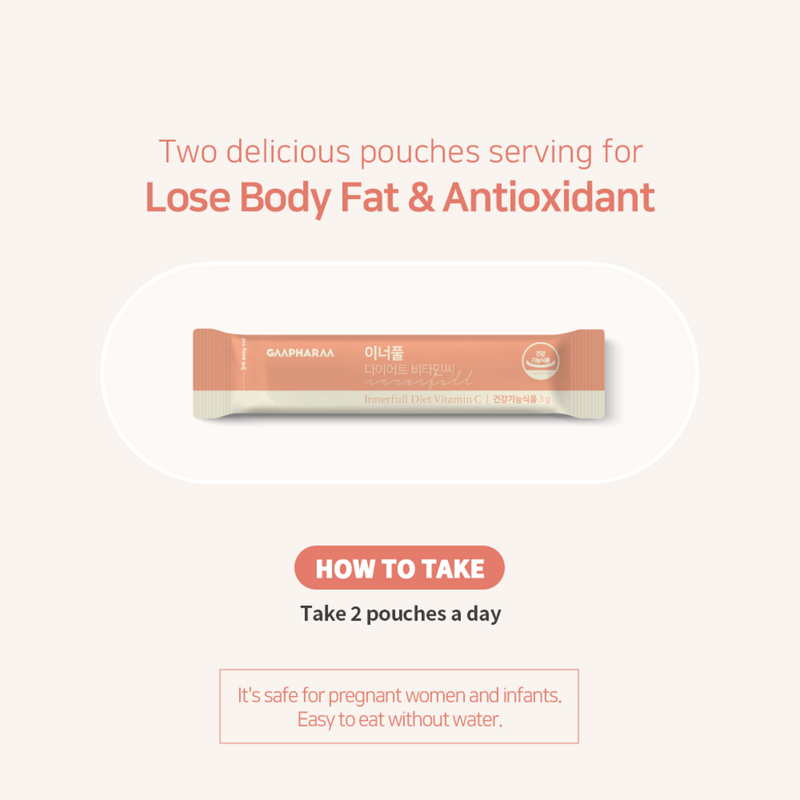 ✅ Dosage
▶ Once a day. Take one pouch with or without water
▶ 5 day supply
▶ Men and women of all ages
✅ Ingredient
vitamin C (British)35.4%,garcinia cambogia extract (hydroxycyclic acid over 60%)24.7%,dextrose monohydrate,xylitol,D-sorbitol,lemon-flavored mixture,lemon concentrated powder,enzyme-treated stevia,silicon dioxide,hydroxypropylmethyl cellulose,elastin,hyaluronic acid mixture,sucralose,fish collagen
✅ How to store
▶ Store in a cool and dry place (Avoid Sun)
▶ No need to put into Refrigerator